Health Library
Thyroid Cancer, Medullary
Medullary thyroid cancer (MTC) accounts for 7% of thyroid cancers, and 15% of all thyroid cancer related deaths. Approximately 75% of the cases are sporadic and 25% are hereditary. In the sporadic form there is usually a single foci of malignancy and unilateral disease in 85% of cases, versus in the hereditary form when the disease is multifocal and bilateral in 90% of cases. Medullary thyroid cancer is associated with the RET proto-oncogene mutation. The hereditary forms of MTC are MEN 2A, MEN 2B, and Familial medullary thyroid cancer (FMTC). These causes of MTC all have point mutations in the RET proto-oncogene. A diagnosis of isolated FMTC is made when three or more cases are identified in a family without other associated endocrinopathies. Ten percent of patients with apparent sporadic MTC also have a de novo mutation in the RET proto-oncogene. Thus all patients with MTC should be RET proto-oncogene tested. Genetic testing and surgical treatment should begin no later than 5 years of age in MEN 2A, and soon after birth in MEN 2B.
In the absence of a family history of MTC, no clues distinguish MTC from other thyroid pathology. The diagnosis is usually suspected based on characteristic cytological features and the presence of immunostaining for calcitonin on FNAB specimen. Blood testing for calcitonin and CEA may also be informative.
Serum markers for calcitonin support the diagnosis and correlated with tumor bulk, nodal, and distant metastasis. A calcitonin level over 1000 pg/ mL after total thyroidectomy with no evidence of recurrence in the neck invariably indicates there are distant metastases (usually micrometastases in the liver). Some surgeons perform a diagnostic laparoscopy during the original operation to document liver disease in these patients since the liver is the most common site of MTC metastases. MTC can also metastasize to the lung and bone. High Carcinoembryonic antigen (CEA) levels correlate with a poorer outcome. Patients with flushing and diarrhea also have a worse prognosis, as do patients with MEN 2B.
Prevention or cure of MTC is by surgery and success is mainly dependent on the initial stage of the disease and the adequacy of the initial operation. Therefore, surgeries for MTC should be performed, in RET positive patients with familial disease, before the age of possible malignant progression. Current studies support the need for total thyroidectomy before age 6.
Central lymph node dissections increase the risk of recurrent laryngeal nerve injury and hypoparathyroidism. In patients with recurrent MTC a decision regarding reoperation must be made. Reoperations are usually palliative in that the blood calcitonin level rarely becomes undetectable. As a rule more extensive initial operative therapy and a meticulous lymph node dissection of all compartments of the neck and perhaps the mediastinum is necessary for cure. MTC is not amenable to radioiodine therapy, and other adjuvant therapy is performed only in clinical trials. Several clinical trials are currently available for patients with MTC.
---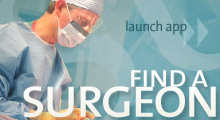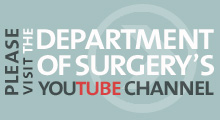 ---
Surgical Services
---
Health Library
---
Top of page