New Surgical Research Laboratories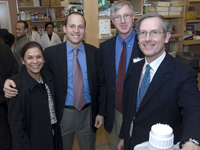 On February 1, 2008, the Department of Surgery held an open house for the new Surgical Research Laboratories. Over 50 faculty and guests attended including Weill Cornell faculty and faculty from the Biomedical Engineering Department in Cornell Ithaca, who are involved in numerous collaborative research projects with Weill Cornell surgeons.
The new 4,000 square feet surgery research laboratories include state-of-the-art technology and equipment, and are located on A-8 and A-10 in Weill Cornell Medical College. In the summer of 2008, additional lab space of more than 4,000 square feet will be added.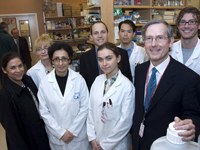 The types of translational research being conducted in the surgical labs include basic science research, vascular, endocrine, diabetes, trauma and plastic and reconstruction. In addition, the department is recruiting an additional three prominent basic science researchers to further enhance our commitment to research.
Top of page