Research Retreats
Nearly 60 faculty members from Weill Cornell Department of Surgery and Cornell's Department of Biomedical Engineering (BME) met at the Weill Cornell campus for the second Surgery-BME Research Retreat on January 31- February 2, 2008. The first research retreat was held in Ithaca last summer and resulted in several funded seed grants for collaborative research.
Building upon the success of the first retreat, the second retreat offered an excellent opportunity for biomedical engineers and surgeons to network and discuss new ideas for collaborative research projects. In addition, the program included informative sessions on "Moving Research Projects Along: What is Needed and How to Get it? The 4 M's: Materials, Mentoring, Money and Manpower." Additional sessions included presentations by Weill Cornell surgeons and BME faculty on "Imaging, Biosensors, Monitoring and Modeling," as well as "Tissue Engineering, New Materials, Drug Delivery, Tissue Monitoring and Tumor Imaging." There was also a session on Education and Training, that involved a presentation and lively discussion about a possible BME/Surgery/Business School joint fellowship.
Many new collaborations were engendered by the retreat. The Third Surgery-BME Research Retreat took place July 25-26, 2008 at the Cornell Campus in Ithaca. The retreat included presentations on new federal grant funding opportunities, concurrent work meetings to discuss and report on existing collaborative research projects that have been funded, and several brainstorming sessions that resulted in several new ideas for collaborative research projects between the biomedical engineers at Cornell Ithaca and the surgeons at Weill Cornell Medical College.
The fourth Surgery-BME Research retreat was held by videoconference on Saturday, January 31, 2009. Nearly 50 faculty at both Weill Cornell and Ithaca campuses attended the videoconference, which focused on Tissue Engineering, Stem Cells, Regenerative Medicine and Imaging and Targeting. Faculty gave an overview of collaborative research activities, expertise and opportunities and various grant opportunities were discussed in detail. Over the four Surgery-BME Research Retreats, through a series of RFPs, nearly $1,000,000 in seed grant funding (through monies donated by donors and supporters) was distributed for exciting collaborative research between Weill Cornell Surgery faculty and Biomedical Engineering faculty.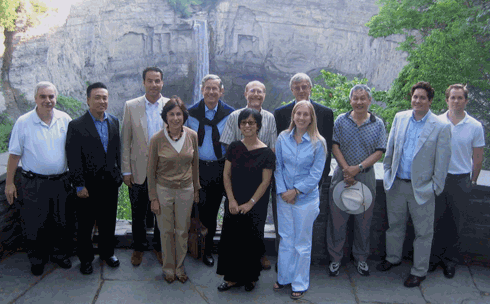 Top of page